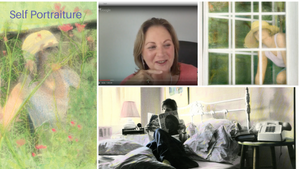 The Art of Self-Portraiture offers contemplation and self-discovery.
The self-paced photography class consists of four lessons delivered in pdf format. Each lesson has a corresponding photographic assignment which I critique with an in-depth video tutorial
Topics Include
Technique

Who Are You?

Shadows and Reflections

Silhouettes

Avatar

Metaphor

Personification
Requirements
Camera

Cable release (self-time will suffice)

Tripod

An understanding of exposure

A willingness to experiment

A sense of humor
I have been creating self-portraits since the beginning of my thirty-year career as a professional photographer. My self-portraits have had wonderful commercial success. They have appeared on best-selling book covers including the esteemed author Ann Beattie, in magazines and they reside in many private collections.
This class is fun, provocative, and profound. Join me and get to know yourself.